CustomHarvesters.com, is based on the proprietary Backhauling.com logistics software of Virtual Marketing Systems Inc. The simple intuitive interface requires a minimum amount of time for growers or harvesters to post and/or retrieve needed information during the normally hectic harvest season.
Links are provided to get up-to-date weather and USDA commodity prices from a pop up browser window at the top of the page.
The harvest crop search feature can be searched by chronological harvest day, location, moisture, crop, equipment needed or any combination of the factors. A search by harvest date will return all postings within a plus/minus 5 days. With current harvest information posted, a custom harvester can fine-tune the harvest sequence.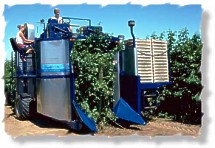 Traditionally, custom harvesters are associated with the harvesting of wheat throughout North America. In reality, custom harvesters are needed for a variety of crops.
CustomHarvesters.com is designed for snap beans, fresh ear corn, grapes and other crops, in addition to grain crops.
Some of the table fields represented are:

Any crop, location, etc.
Any harvest date, moisture, etc.
Large text area for details
Upload company logos, maps, favorite harvester, etc.
Unlimited postings after initial login
Please contact us to include any features that would assist you in scheduling the harvesting and/or matching harvesters to crops to be harvested.